Thursday, June 16th, 2011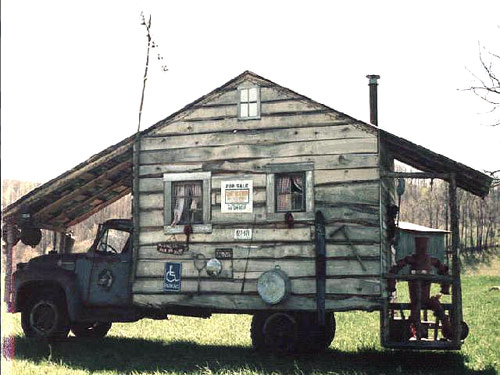 We talk to full time RV'ers every day who would like a Rocky Mountain Mattress RV mattress. It is always fun to see pictures of our customers and their RV's (and no, we have not serviced the "homes" you see here).
Which brings us to these RV's… now we do respect everyone's right to have a 'home away from home', but when you take that home with you on the road, you should probably ask yourself questions such as:
· Is this mobile home already mobile? – If not, leave it that way…
· If I were to get in a car accident, would this 'mobile home' look as if a hurricane blew through? – If so, leave it anchored to the ground…
· Are there real shingles and wood siding on my 'mobile home'? – If so, you probably don't want to expose them to too much of the elements…
We're sure this is a perfectly comfortable, normal RV. However, I don't think I could sleep comfortably at night knowing that a 20-foot cow was perched somewhere above me. Especially one with such a creepy look on its face.
To receive additional information on custom mattresses please complete our custom mattress form http://www.rockymountainmattress.com/blog/custom-mattress-tool or email us at info@rockymountainmattress.com
or call 1-866-733-3132.